How I fell in love with Moroccan cuisine
When thinking about the taste of Morocco, a quote of a celebrity chef P.Prudhomme comes to my mind: "You don't need a silver fork to eat good food". The taste of Morocco is much more vivid, vibrant and authentic than you might think.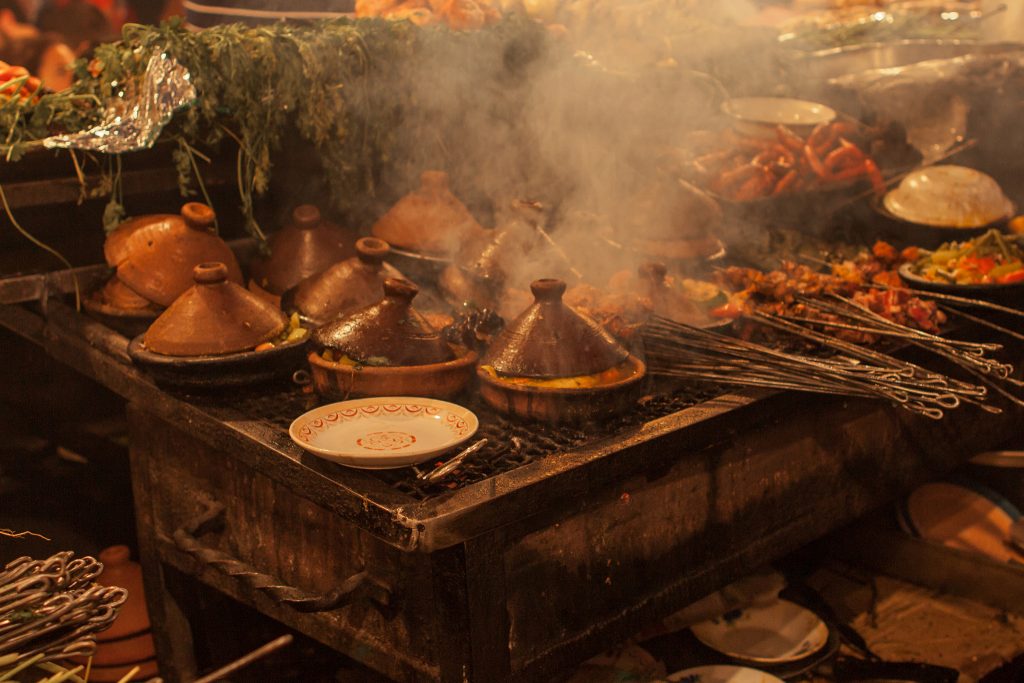 It is not only the spicy taste of the well-known tagine or the sweet bitterness of famous freshly-made orange juice from Jemaa el-Fnaa market.
The taste of Morocco is closely related to its history, people and their genuine hospitality. Spending a week living with Moroccan family immersed me in local culture more than I would have ever expected. Not only did I end up feeling like a family member and the most welcomed guest in their house, but the experience also helped me discover a whole new world of tastes and aromas through the culinary traditions of the country. Being a part of the local society, following a simple, yet beautiful lifestyle made me fall in love with Morocco, its' people and understand why Moroccan cuisine is considered one of the greatest in the world.
Breakfast. Sweet memories
When I think of the taste of Morocco, I see gentle hands of a smiling lady, kneading dough and dusting her hands with flour early in the morning. Her skillful fingers pat it into smooth, soft balls, which later become msemens, the tasty square shape pancakes.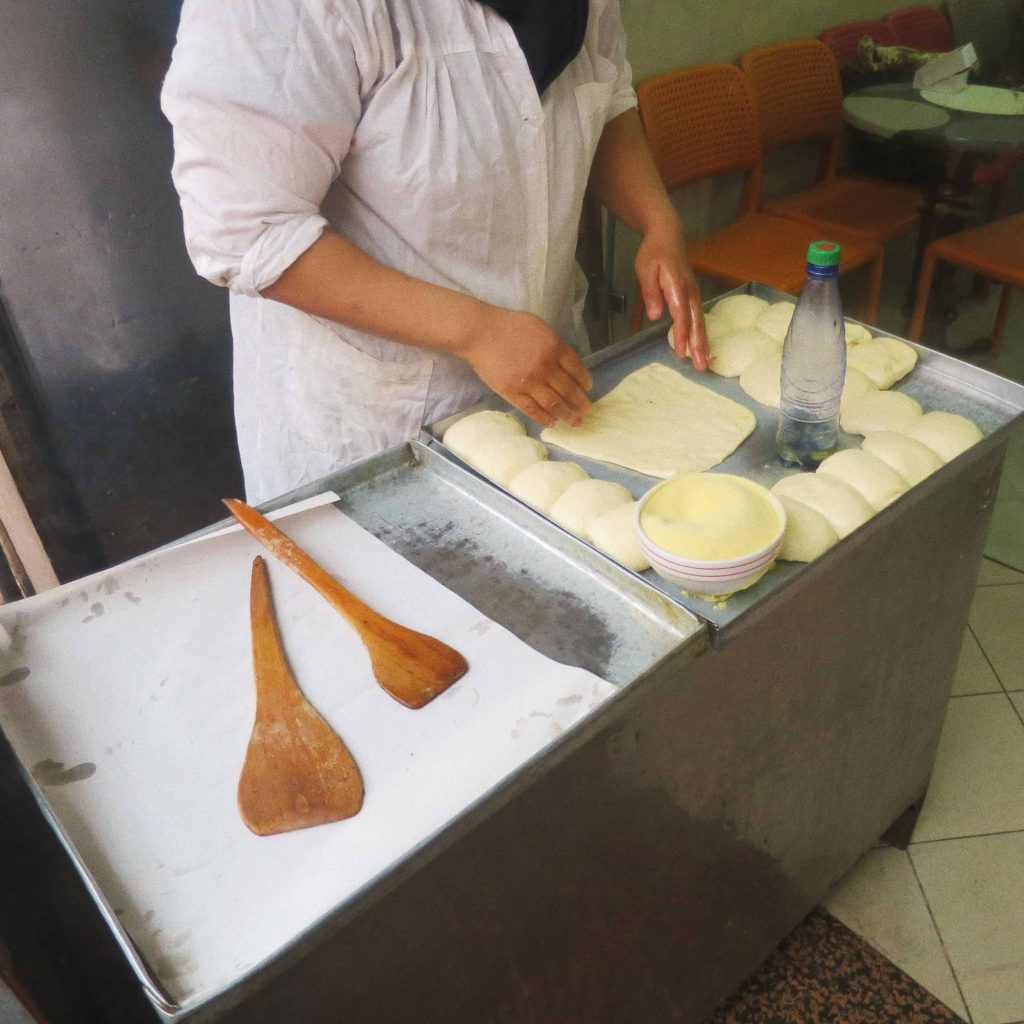 I find it difficult to stop watching her doing her simple, bewitching actions. My msemen is ready, crispy out, but soft and chewy inside. Oven-like msemen is being filled with a thin layer of delicate cream cheese, honey or homemade jam. All of that is being served with a pot of a hot Moroccan extra sweet tea.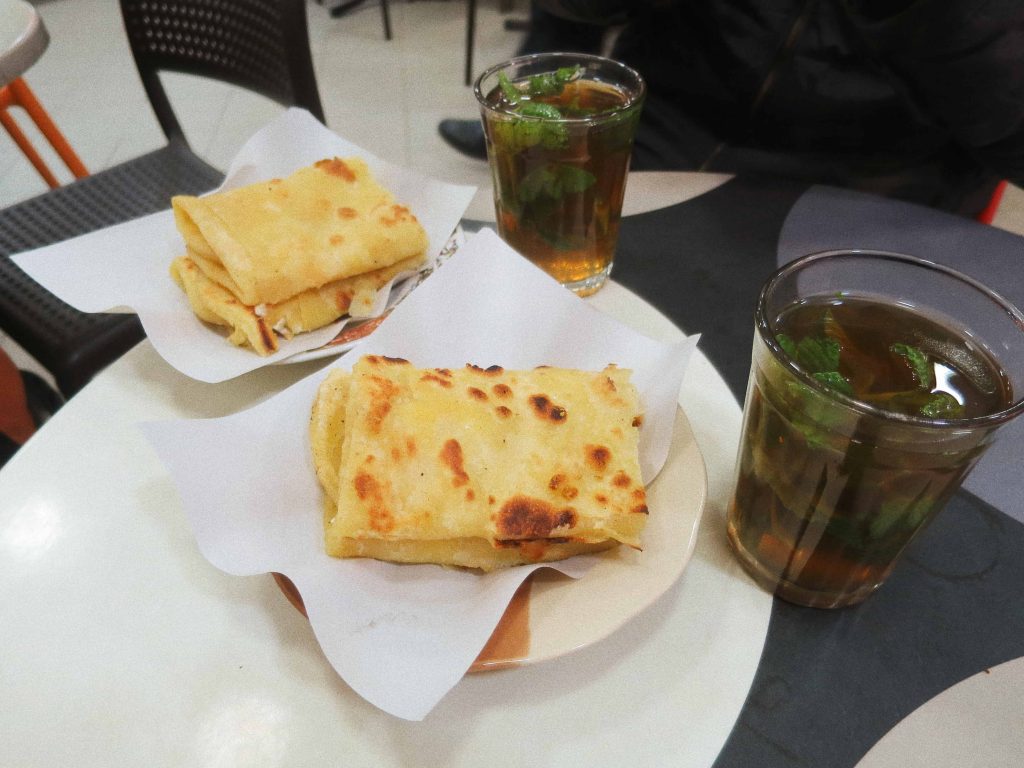 What a pleasure! I take a seat and watch people, donkeys, carriages, and bikes pass by. All of them hurry to the medina, the day has officially started.
My next memory brings me back to the house in Meknes. We have a late breakfast with my host family. Here it becomes evident that Moroccan culture has a cult of bread. Thin and thick, soft and crispy, round and square, it's found on every table and every house. Today we are eating different types of griddle-cakes and semolina flatbreads, dipping it into thick sweet amlou. Amlou is the traditional dish made of argan oil, honey, and toasted almonds. It has a great, rich nutty taste, and as you may guess – many calories. It is very nourishing, however a bit unusual for my stomach, which usually receives a yogurt in the morning. No need to mention, all of that goes with an incredible amount of mint tea.
Tea as a ritual
Making the traditional fragrant tea is almost an art, and far from being an easy job. Chinese green gunpowder tea is made with a generous quantity of fresh spearmint and sugar. There is some magic involved in the process of making real Moroccan tea. Those, who can catch "the spirit of the tea" and pour it correctly, will enjoy the most aromatic, tasteful drink with a nice foamy head.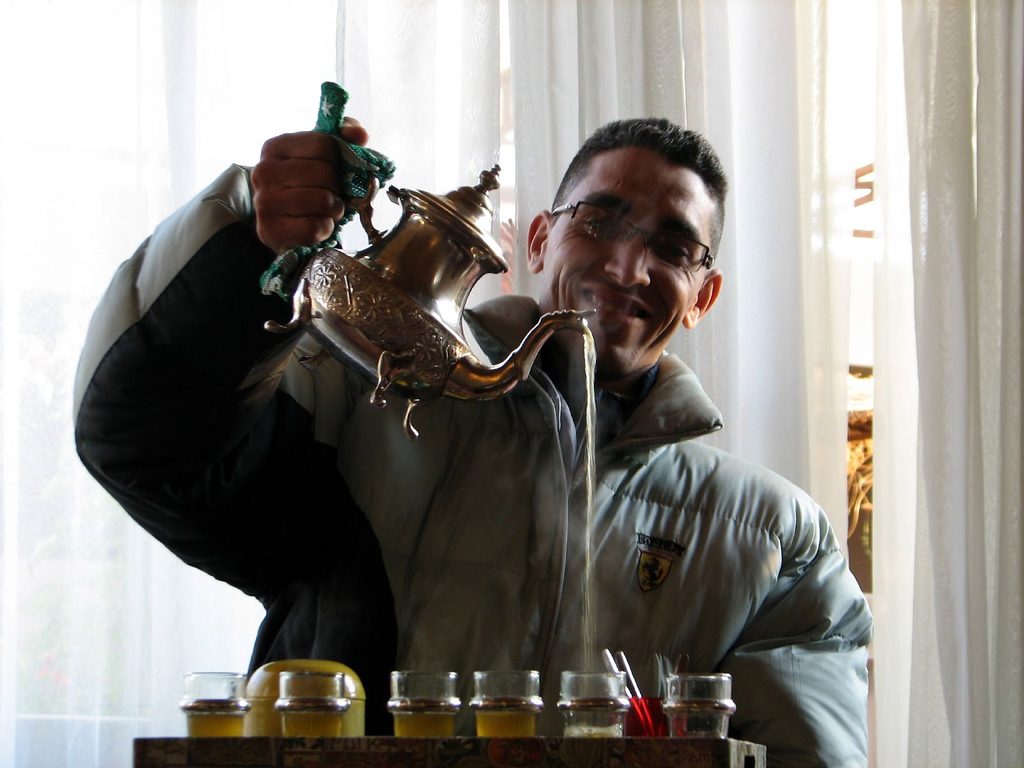 Tea is more than a beverage; it is a way to express feelings and unite. It is served all day long, and there is nothing which compliments it better than a good conversation. Simply fantastic! Later a friend of mine gave me a perfect present – the traditional engraved teapot, a set of cups, and a huge pack of the excellent gunpowder tea. However, even following all the steps, I was never able to make the same mint tea I have tried there.
New discoveries
Another drink which ultimately won my heart is the avocado shake. It took some time to understand what the ingredients of the particular thick beverage served by a mother of the family are. I was pleasantly surprised it was a delicious and refreshing combination of cold milk, avocado, and honey. I know this mix may seem a bit unusual, but you should give it a try when in Morocco. Promise you won't regret.
Moroccan pride
A Moroccan dish not to be missed is couscous. It is colorful, steamed to perfection and won't leave you indifferent. My personal preference is the one with seasonal vegetables and soft, juicy lamb. Needless to say, homemade couscous is the best!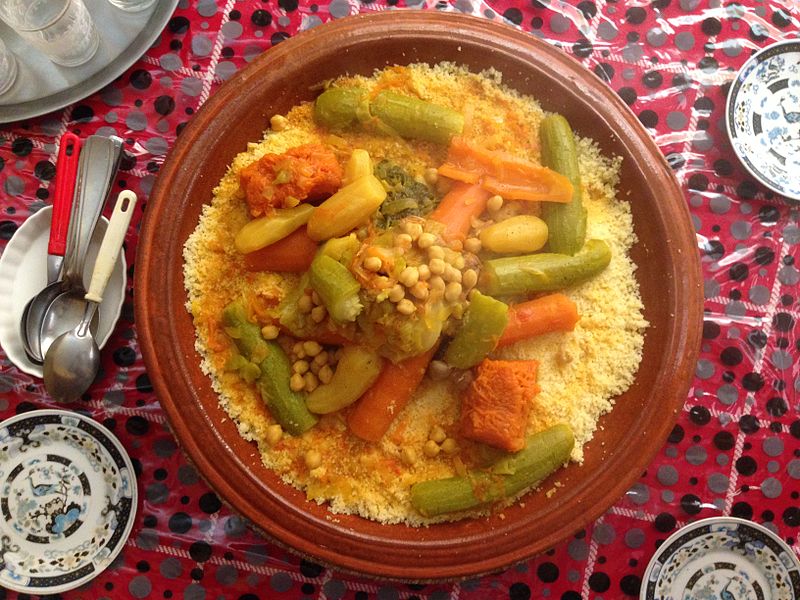 Variations of the dish are so many that it won't be a problem to find the one you love above all others. You can choose from the vast variety – spicy or mild, with meat or without, salty or sweet. There are even dessert one with nuts, dried fruits, and honey.
King of the soups
Another memory brings me back to the lively night market of Essaouira. Despite late hours, it is still full of people. I am walking around the stalls, impressed by the variety of products the market offers. Everything from olives to raw fish you can find there. It is late, and the temperature slowly drops to 5 degrees. My hands and feet start getting cold. To warm myself up I pay 4 dirhams, and the seller pours me a huge bowl of thick Moroccan soup. The hot steam flickers in the night air.
I take a spoon and inhale the aroma of exotic seasonings. Hot lentils, chickpeas, tomatoes, cooked on a lamb broth immediately fill my stomach and warm me from inside. Harira is a very nourishing soup, which gives energy to people during the Ramadan. So if you are visiting Morocco in winter, a bowl of warming harira is something you definitely need to try.
These are just a few suggestions on the way of exploring the real taste of Morocco. I hope you love the taste of Morocco the same as I do!